According to Dermatologists at the University of California, San Francisco, males aren't the only gender at risk of hair loss—female pattern baldness (or female pattern hair loss, FPHL) affects roughly half of all women between the ages of 12- and 40-years-old. Rather, akin to having a high chance of inheriting your dad's asthma, you also have a likelihood of becoming heir to your mom's thinning hairline.
If you notice your hair is thinning, not growing as fast, or if female pattern baldness runs in your family, here's how to identify FPHL…
Commonality of Female Pattern Baldness
We hear and see proof of male pattern baldness every day on the streets, at work, and on television. However, for women, FPHL is less visible and often more hidden. Not that men don't suffer embarrassment due to hair loss, they certainly do.
However, for women who begin to experience thinning hair and hair loss, the tendency is to hide the loss with a wig, hair extensions, or by covering hair. With over half of women struggling in silence with female pattern baldness—many experiencing hair loss as early as puberty (or at approximately 12-years-old).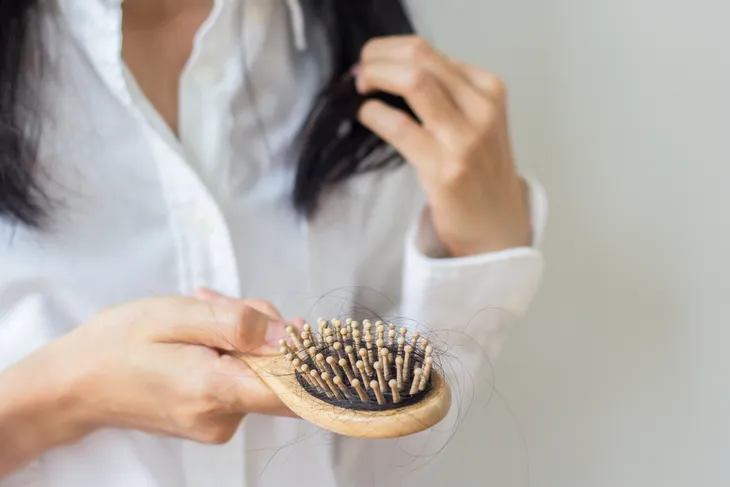 The Heredity of Thinning Hair
Female pattern baldness, similar to male pattern baldness, tends to run in the family. This means there is typically no underlying medical condition responsible for FPHL. For males, this is common if they're father or grandfather suffered male pattern baldness—while for women thinning hair is common if your mother or grandmother also suffered with FPHL.
According to dermatology researchers at Stanford School of Medicine, hair growth is determined by genetic factors at birth. The stem cells that determine the growth pattern (or how long, short, thick, or thin) for the hair on top of your head are assigned a number of times they can regenerate new hair on a monthly basis. With the onset of FPHL, hairs fall out and are replaced with shorter, thinner hairs as time progresses. Eventually hair stops growing altogether.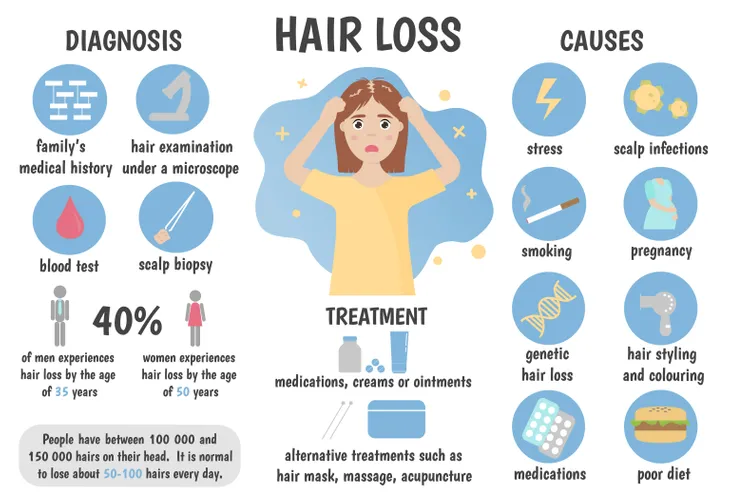 Hormones and Female Hair Loss
Menopause messes with hormonal balance. Women in menopause tend to experience a decrease in estrogen hormones and an increase in male hormones, or androgens (i.e., dihydrotestosterone), which will often affect the normal cycle of hair growth.
Hormonal changes can cause hair to thin, grow in shorter hair, and stall fresh hair replenishment. This is why it's common for women to experience hair growth disruptions following a pregnancy or the cessation of birth control pills within 3-months following the hormonal change. However, after giving birth you will usually see hair growth return to normal within a subsequent 3-month period.
In younger women, pattern hair loss is seen in conditions such as PCOS where an excessive amount of androgen is produced.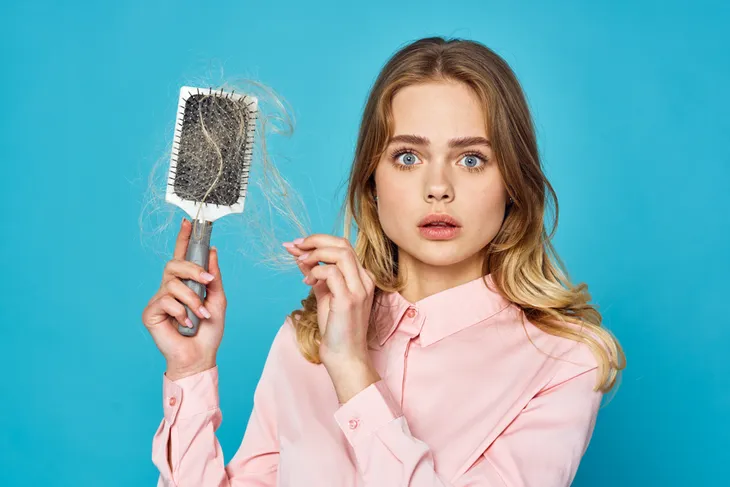 The Earliest Signs of FPHL
Though men and women both experience pattern baldness, there are differences in the way hair is lost between the two genders. For instance, pattern baldness for males tends to thin in a receding pattern—like a wave being pulled back from the top of the forehead—often in a widow's peak (or M pattern) followed by a deep horseshoe (or U pattern).
However, females tend to experience pattern baldness at the hair's natural part as well as at the sides of the head. This means thinning may widen the gap where hair parts naturally or in the area of the temples rather than receding at the hairline. There's also thinning predominately at the crown. This pattern of hair loss in women is known as androgenetic alopecia (or female pattern alopecia) and it affects approximately one-third of all females in their post-menopausal years.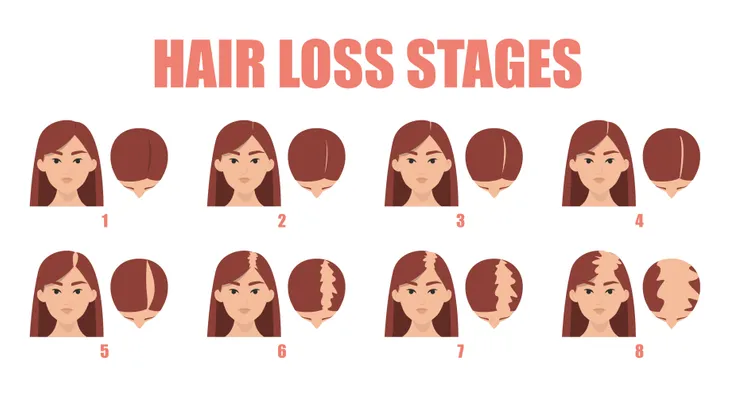 FPHL in Men vs. Women
While most cases of male pattern baldness progress to complete, or near, baldness for men—female pattern baldness rarely causes complete baldness in women. However, the evidence of FPHL is still very traumatic to the women it strikes.
Women with female pattern baldness are prone to thin hair that dries out. According to Dr. Anthony Oro, a professor of dermatology at the Stanford School of Medicine, this is due to the diminishing hair follicles that are unable to store adequate levels of moisture. Dry hair tends to take on brittle texture and suffer breakage. As hair follicles weaken, they also shed their exterior, protective cuticle, which results in a dull, lackluster mane.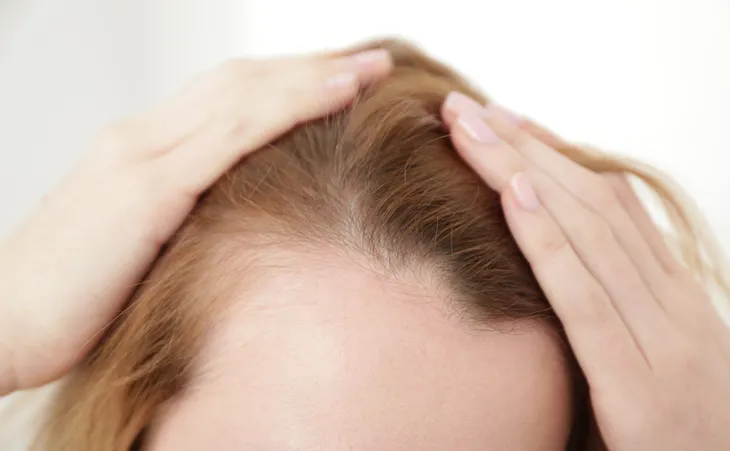 Diet for FPHL Patients
All is not lost for women with female pattern baldness. New York City dermatologist, Dr. Cybele Fishman, claims that the most effective way to preserve remaining hair is to nurture it with a vitamin-rich, balanced diet full of whole foods (i.e., lean proteins, fresh fruit and vegetables, and healthy fats).
For example, focus your diet on nutrients that help fortify the hair follicle and nurture the scalp. Foods like salmon and walnuts are high in omega-3 fatty acids, which the body requires for hair growth. Also walnuts are rich in biotin and vitamin E, nutrients that protect the cells from DNA damage and encourage hair maintenance. Keep in mind that taking foods and supplements rich in vitamin A can magnify hair loss.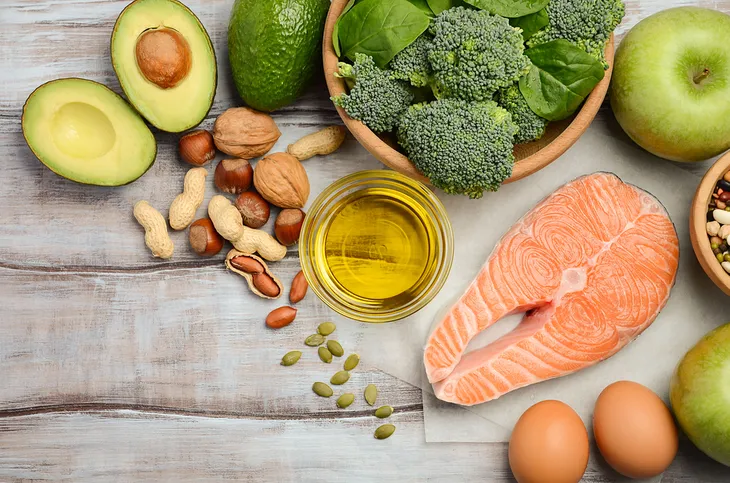 Protect Hair from Environmental Factors
Lisa Drayer, New York-based nutritionist, registered dietician, and author of The Beauty Diet, your hair is affected by more than just your diet. The sun, your sleep schedule, your hormones, and your smoking habits can all impact hair growth and female pattern baldness.
This is why Drayer suggests keeping your already fragile hair protected from the sun's harmful UV rays with a sunhat or covering. Akin to UV exposure, smoking will only dry out hair further and cause more damage. According to researchers at the Belgravia Center, the leading hair loss clinic in the UK, sleep issues affect roughly 40-percent of females with hair loss.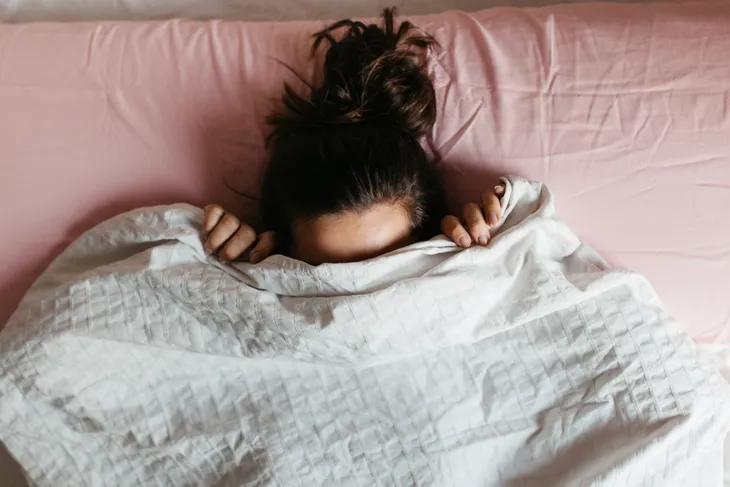 Hair Treatments and FPHL
Research published on WebMD.com suggests avoiding chemically laden shampoos, as well as hair dyes and harsh hair bleaches that may only do more damage to your already-fragile locks. After all, the last thing any woman with FPHL wants to do is dry out hair further to accelerate hair loss and breakage.
This is why the use of a gentle, non-chemical shampoo and conditioner are advised. Look to products that restore moisture and shine while using an anti-dandruff shampoo that contains the antifungal ingredients, ketoconazole or zinc pyrithione, at least once per week.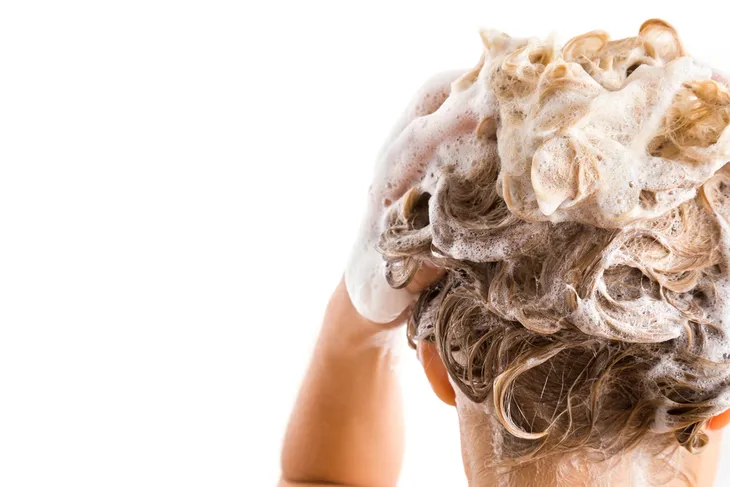 Medical Treatments for Female Pattern Baldness
The U.S. Federal Drug Administration (FDA) has approved the topical treatment, Minoxidil, to treat female pattern baldness. The only FDA-approved treatment is prescribed at 2-percent concentration and attempts to stall thinning hair while aiding the growth of fresh hair at the top of the scalp. However, keep in mind that one reported side effect of this drug is facial hair growth.
Alternatively, if a hormonal issue is found (i.e., the production of excess male hormones or androgens) your doctor may prescribe oral contraceptives to treat female hair loss. However, if hair loss is due to increased production of male hormones, the pattern of hair loss pattern will typically resemble the receding hairline common to male pattern baldness vs. FPHL.