Food and wine pairings have become quite the trend. Whether you're at a restaurant, have company over, or enjoy unwinding after a long day, pairing your favorite wine with a snack or meal can enhance the flavor if you know what goes well with your vintage. There's a definite balance that's found in proper pairings–you want to complement the flavor of the food and wine without overwhelming either of them.
But a lot of popular wine and food pairings can send you to the gym for an extra session because they're high in calories, fat, and sugar. So if you enjoy wine, try some of these healthier wine and food pairings. Rich in flavor and healthier than the standard cheese and chocolate, you'll be satisfied with less damage to your diet…
1. Spinach Dip
When you think of dips, your first thought likely doesn't scream healthy. But there are ways to make dips healthier without sacrificing the flavor or giving up a dip's crowd-drawing abilities. To make the staple spinach dip a healthier food pairing, use plain Greek yogurt or low-fat cottage cheese as the base instead of sour cream. Even replacing half of the base with one of these lighter options will go a long way to making it lower in fat. Dry white wines go with creamy dips so pick up a bottle of your favorite and break out this healthier version of spinach dip.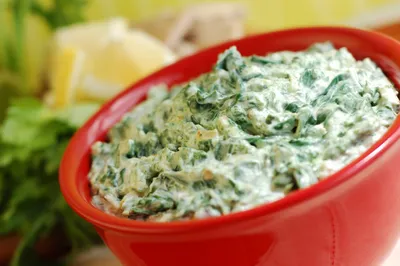 2. Turkey Chili
When you think of chili, you think of comfort and flavor. While ground beef isn't the healthiest way to go, replacing it with lean ground turkey makes this comfort food healthier without losing the intense flavors. Chili is a hearty meal that you can fill with vegetables, beans, turkey and loads of spices, and it lends itself to bold wine pairings. Red wine lovers who enjoy bold and complex wines will love pairing a good Zinfandel or Côtes du Rhône with turkey chili. Just make sure that you don't make the chili too spicy because too much heat will take over your taste buds and pairing a bowl with a good wine would be pointless.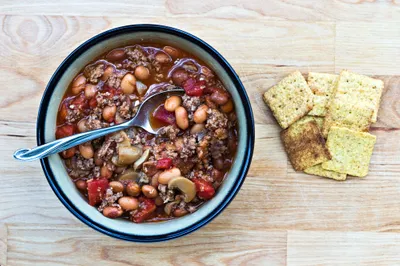 3. Grilled Salmon
Salmon makes it onto a lot of lists as a health food because it's high in omega-3 fatty acids and a good source of vitamin D. It's recommended that a healthy diet include two servings of fish per week, and you can reap the health benefits while enjoying good food and wine at the same time. There are a lot of recipes for delicious sauces and fresh herbs that go well with grilled salmon. Pair it with a red wine because it's a meaty fish. Try a Pinot Noir or Gamay–the fruits in these wines go well with the rich meat of grilled salmon. If you prefer white wine, a Chardonnay could also work.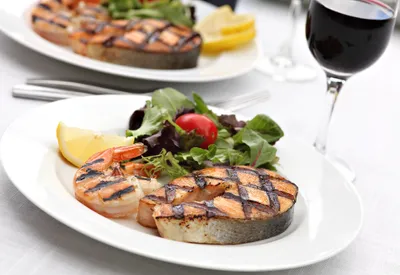 4. Exotic Fruit
Low in calories, but high in flavor, fruit is a healthier wine and food pairing that can easily satisfy your desire to eat good food and drink fine wine. Instead of regular, everyday fruit, try more exotic fruit and berries for a change. Star fruit, kiwi, passion fruit and mangoes are full of flavor. Add in some strawberries, blackberries or raspberries, and you'll have a colorful and enticing tray of fruit, especially if you cut the bigger fruit into interesting shapes. Plus, it's a great excuse to try out some of that exotic fruit you've been eying at the grocery store.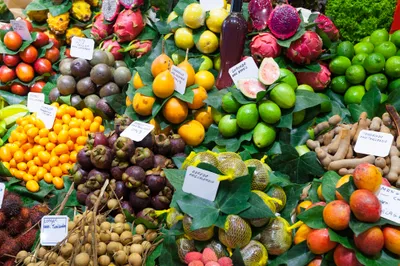 5. Grilled Peaches
It's interesting, and conveniently a healthy option, to pair different types of fruit with wine, and not only does the everyday person enjoy it, wine connoisseurs do too. Usually, light wines go well with fruit but a Moscato or even a Rosé wine pairs deliciously with grilled peaches. And what's great about this pairing is not only that it's healthy–but that you can offer it as a dessert option. Using a bit of honey and Greek yogurt to drizzle over the grilled peaches, you'll have a tasty and unique dessert to offer guests without the high sugar and fat content of other typical desserts.
6. White Fish
White fish is a healthy food to pair with wine, and a good opportunity to try out different types of light, white wines. When pairing wine with mild-flavored white fish, you always go for white, as reds tend to overpower the seafood. White fish is low in fat and baking or grilling the fish is healthiest. And although they don't have as much as oily fish, they're still a source of omega-3 fatty acids. Squeeze some lemon juice and place some fresh dill on top, and you'll end up with a healthy, flavorful meal. Just be sure to avoid farmed fish, as they can be quite unhealthy.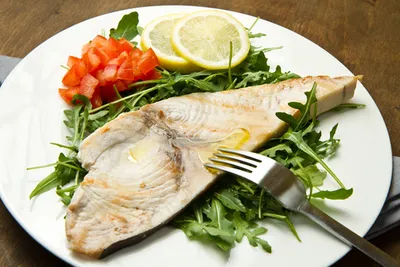 7. Grilled Vegetables
Although many experts focus on pairings with meat and fish, grilled veggies are a healthy and delicious option to pair with a red wine. Simple grilled vegetables work well with wines that have soft tannins, such as a Grenache or Merlot. If you like cooking your grilled veggies in a heavy and bold sauce, a Syrah would complement the flavors well. It seems grilled vegetables offer a lot of options for wine pairings, and so you might want to try a few different types of wine to find what your palate prefers. And of course, experimenting can be a lot of fun.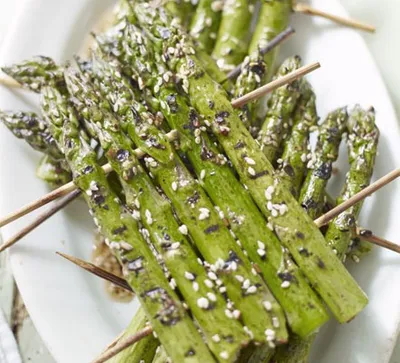 8. Shrimp Curry
There are a lot of seafood dishes that are healthy and go well with wine, and shrimp is no exception. But instead of the standard shrimp cocktail, try making a curried shrimp dish. The tangy and spicy flavors are a perfect match to complement and enhance a good bottle of wine. The type of wine depends on the curry–for medium to hot green curries, try a Pinot Gris or Riesling, and for mild curries like korma, pair it with a fruity Rosé. Some people find Gewurztraminer nice as well. A little bit of sweetness and the crispness of these white wines contrasts well with the bold and spicy flavors of a curry.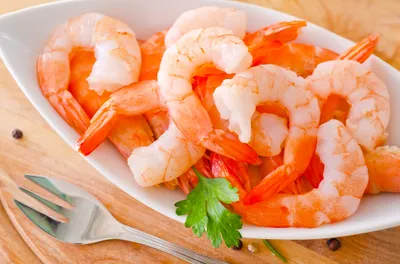 9. Roast Chicken
If you're interested in a meat that goes well with wine and is healthier than red meats, roast chicken is an easy and good way to go. There are so many different ways to add flavor to simple roast chicken–there are a variety of sauces and spices you can use, and different things you can stuff in your bird. And if you're having company over and want to offer a selection of wine, or prefer red over white wine (or vice versa), both red and white wine work well for pairing with simple, but delicious roast chicken.