Just because it's winter doesn't mean you have to forgo all things green and good for you! Typically salad for dinner leaves something to the hungry appetite. However, I'm not talking about rabbit food here. I'm talking about hearty, satisfying meal-worthy salads that are not only easy to prepare—they're good for you too.
And you don't have to stick with the lowly leaf lettuce, you can create your own salad base with any vegetable you like, or you can really make it filling by adding leftover pasta, rice, couscous, or quinoa.
Here are 10 light salads that eat like a serious meal…
Grilled Scallop & Strawberry Salad
Grilled sea scallops (yeah, the big ones) are not only tasty; their also an excellent source of healthy omega-3 fats. Succulent and juicy, these scallops are herbed to perfection, served over tasty mixed greens and strawberries, and drizzled with a flavorful herb-infused dressing. Plus, if you're not a fan of scallops, you can substitute them with grilled shrimp or a salmon filet.
Recipe:
1 pound sea scallops
1/2 cup olive oil
3/4 teaspoon salt
1/2 teaspoon fresh-ground black pepper
4 teaspoons red wine vinegar
1/2 pound mixed salad greens
3/4 cup loosely packed basil leaves, torn in half
3/4 cup loosely packed flat-leaf parsley leaves
1/2 cup loosely packed mint leaves
1/4 cup chopped fresh chives
4 teaspoons drained capers
1 cup of fresh, sliced strawberries
Tortilla Salad
Assembling your own salad can be half the fun! Especially when you invite the whole dang family to create their own tortilla salad—complete with lean ground chicken, romaine lettuce, diced tomatoes, green onions, cheddar, and salsa. Crown your creation with a hearty dollop of low fat, plain yogurt (a healthy substitute for sour cream…and it tastes just as yummy)!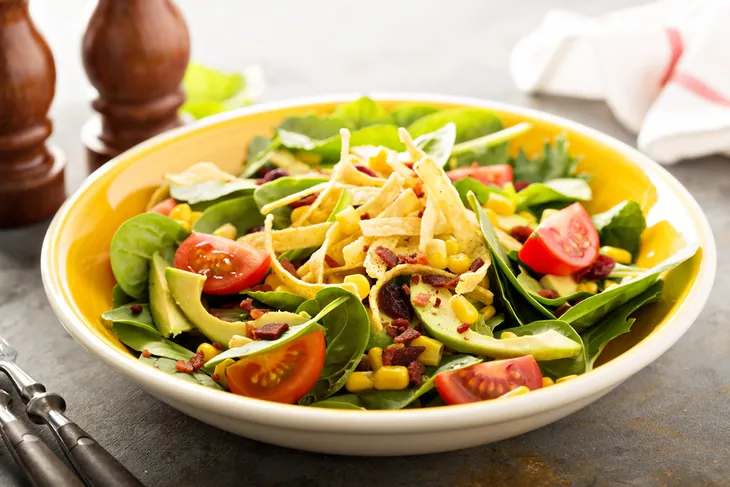 Recipe:
4 cups of shredded romaine lettuce
1 cup of diced tomatoes
1 cup of low fat shredded cheddar
1/2 small, diced green onion
1 pound of lean ground chicken
1 eight-ounce bottle of mild or medium salsa
1 packet of Taco seasoning mix
Garnish with low fat plain yogurt
1 baked soft tortilla, cut into strips
Salad Nicoise
Salad Nicoise is one of my absolute favorites because it's such a balanced, beautiful meal. Jam-packed with fresh green beans, tomatoes, and potatoes; protein-rich tuna and hard-boiled eggs; add some good fats in meaty Kalamata olives and drizzle it all with a tantalizing vinaigrette dressing.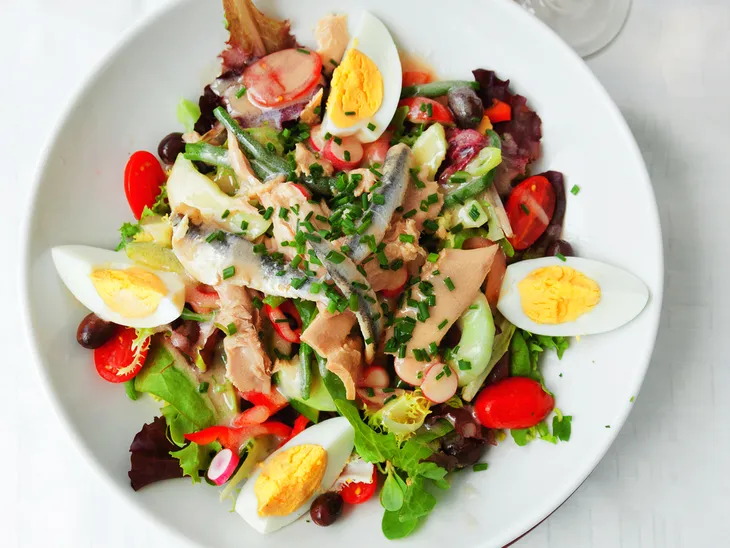 Recipe:
2 hard boiled eggs
1/2 pound of small potatoes
1/2 pound of green beans
1/2 head of green lettuce
1 can of water-packed tuna
4 ounces of tomatoes
10 Kalamata olives
2 tablespoons of capers
1/3 cup of extra virgin olive oil
1/3 cup of balsamic vinegar
Grilled Steak Salad
This salad is super easy to assemble and grill up on a whim. However, your guests will think you've been slaving over it all day long. Just marinate and sear a thin flank stead on the grill for a tasty, lean, filling salad that truly eats as a meal!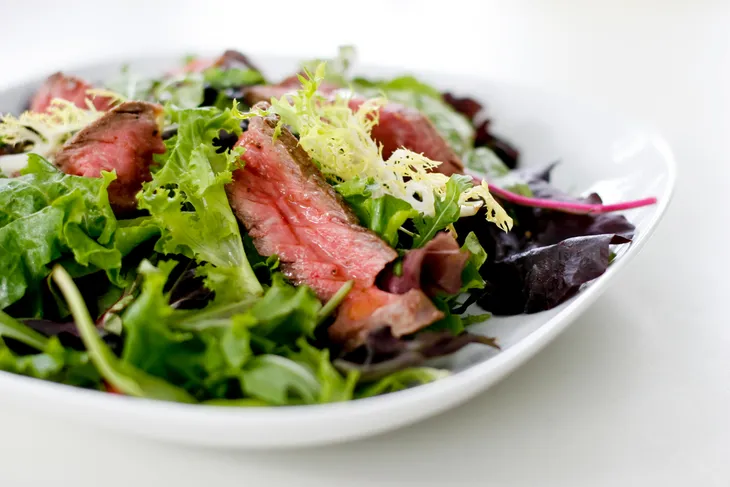 Recipe:
1/4 cup Worcestershire sauce
1/4 cup olive oil
2 medium red onions wedge-cut
1/2 teaspoon coarse black pepper
1 1/2 pounds flank steak
5 ounces baby arugula or spinach
Tofu-Miso-Ginger Salad
Vegetarians have hearty appetites too—and that's why I've included this filling salad bowl layered with the goodness of firm tofu, rice noodles, crunchy cucumbers, shredded carrot, green beans and scallions, all tossed in a tangy miso-ginger vinaigrette, and sprinkled with chopped nuts.
Recipe:
1 medium carrot, shredded
6 ounces green beans chopped
10 ounces firm tofu, cubed
2 diced scallions
1 medium English cucumber, thinly sliced
1 small of romaine lettuce, torn
2 teaspoons of miso paste
2 teaspoons dried ginger
2 teaspoons white wine vinegar
1/4 cup roasted, chopped peanuts
Red Potato Salad
Potato salad doesn't have to be filled with unhealthy fats (like mayonnaise). This healthy rendition of a traditional American red potato salad features a reduced fat lemon vinaigrette-style dressing made with spicy Dijon mustard, white wine, white vinegar, and olive oil.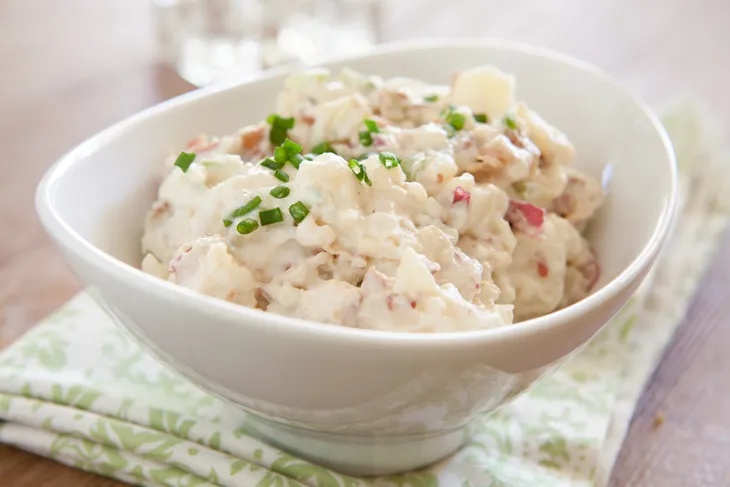 Recipe:
1 1/2 pounds red potatoes
1/4 cup Dijon mustard
1/4 cup dry white wine
1/4 cup white wine vinegar
2 tablespoons extra-virgin olive oil
1 white onion
2 stalks celery
1/2 cup chopped fresh parsley
2 sprigs fresh dill, chopped
1/2 lb steamed green beans, trimmed
Cobb Salad
This gorgeous layered style salad with its colorful rows of vegetables, meats and hard-boiled eggs looks too good to eat! The bad news is that most Cobb salads are loaded down with unhealthy ingredients—such as fatty dressings, cheese, meats, eggs, and bacon. The good news is this healthy version of the classic Cobb strikes a perfect balance between good nutrition and great taste!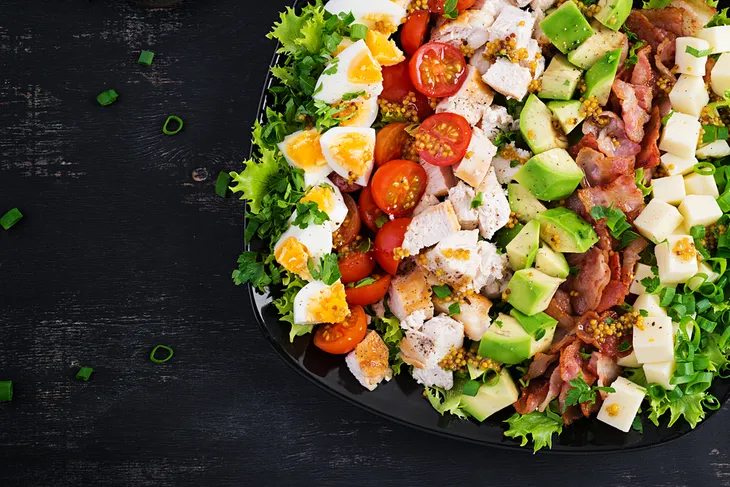 Recipe:
3 tablespoons white-wine vinegar
2 tablespoons finely minced shallots
1 tablespoon Dijon mustard
3 tablespoons extra-virgin olive oil
10 cups mixed baby spinach and greens
8 ounces diced chicken breast
2 hard-boiled eggs, chopped
2 medium chopped tomatoes
1 large chopped cucumber
1 avocado, diced
2 slices low fat, low sodium bacon, crumbled
1/2 cup crumbled blue cheese (optional)
Greek Salad
Taste the romance Greek Islands with a classic and healthy Greek-style salad—filled with the goodness of the Mediterranean—olives, fresh cucumber, tomatoes, olive oil, and tangy feta cheese!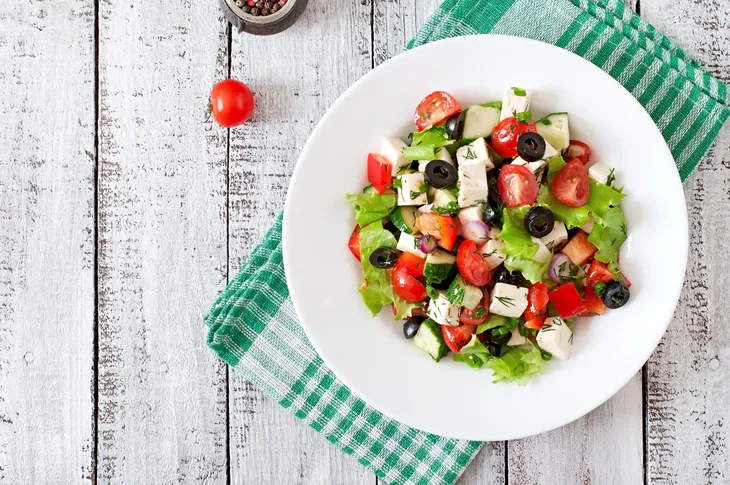 Recipe:
2-oz Kalamata olives
3 medium tomatoes, diced
1 cucumber peeled, diced
½ red onion, sliced
½ cup extra virgin olive oil
5-oz feta, crumbled
2 cups romaine lettuce, chopped
2 tbsp torn oregano
3 tbsp balsamic vinegar
Bean, Corn and Avocado Salad
Nobody will ever point the finger and cry, "rabbit food" at this delectably colorful bowl of hearty roasted veggies, hearty quinoa grains, and protein-rich pinto beans!
Recipe:
1 can pinto beans, drained and rinsed
2 cups frozen corn
1 cup scallions, thinly sliced
1 ripe avocado, cubed
3 plum tomatoes, cubed
1 bag romaine hearts, torn
3 cups crushed, baked tortilla chips
1/4 cup medium tomato salsa
Peanut Pasta Salad
This lip-smacking marriage of peanut butter, soy sauce, rice vinegar, and red-pepper flakes makes a delectable Asian-style sauce for this healthy whole-wheat pasta salad. Pack it for lunch or enjoy it for your evening's main course—trust me, you'll be satisfied!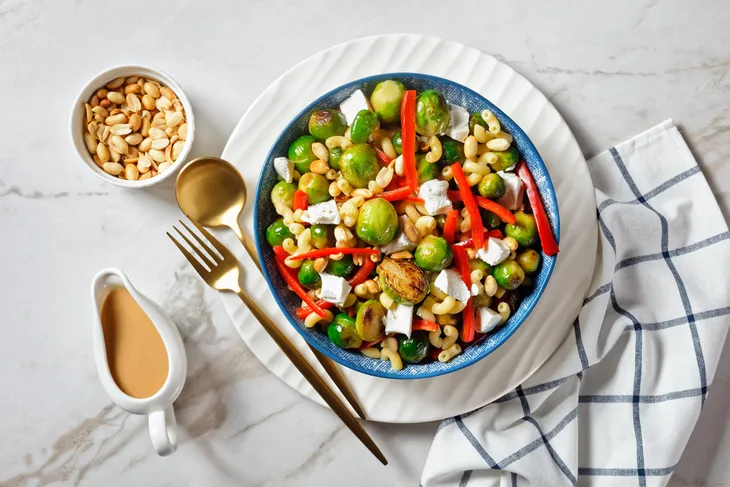 Recipe:
1/2 pound of whole-wheat fusilli
2 heads of broccoli, chopped
3 tablespoons vegetable oil
1/2 teaspoon red-pepper flakes
1/4 cup rice vinegar
2 tablespoons smooth, natural peanut butter
3 tablespoons soy sauce
1 cup scallions, thin sliced
1/2 cup roasted peanuts, chopped
Like this article? Check out these other articles for healthy eating: