Motivation to live a healthy, active lifestyle comes in many forms—from the success of a new and delicious healthy recipe to going down that first pant size. But at times, everyone experiences the loss of their fitness inspiration. Work, stress, not hitting your weekly weight loss goal, or quite simply, life, can get in the way and knock you off your fitness regime.
You can overcome and avoid these bumps in the road more easily now. Luckily, there are tons of fitness trackers, gadgets, and online programs that will keep you motivated and on track with your fitness goals while focusing on results. Here are 10 innovative fitness trackers to get you moving…
UP24 by Jawbone
UP24 is a combination sleep, fitness, and food tracker that takes a more holistic approach to healthy living and how to track it. It provides real-time feedback, nudges and notifications–a combination that gives you the push you need to be healthy and stay active. The app lets you enter your meals and mood, and tracks your stats.
You can also connect with friends, who use the app, giving you added motivation to stick to your fitness goals. Peers are just as influential in fitness as they are in other areas of your life.
Flex by Fitbit
Fitbit Flex is a water-resistant gadget you wear around your wrist that tracks steps taken, calories burned, length and quality of sleep, distance traveled, and amount of active minutes. The 5 LED lights reflect a goal you've set–calories, steps or distance–and each light represents 20-percent of that goal, giving you motivation throughout the day to get all the lights burning.
Flex syncs automatically and wirelessly with PCs, Macs and some android phones, so you can log your food, check your stats and progress, and set goals. Extra motivation comes from achieving badges for reaching your goals, challenging friends and notifications of your stats.
MyFitnessPal
MyFitnessPal is a calorie and exercise tracking program you can download as an app on your phone, use in a browser, or download to sync with many wearable fitness tracker gadgets. With over 4 million food items complete with health information and countless exercises in the MyFitnessPal database, it figures out how many calories you can have based on the goal you set and your daily activities.
You can even add in your own recipes. On top of the extensive databases, there are active discussion forums where other health-focused people provide tips and support, some of the best motivation to stay on track.
EveryMove
EveryMove is a fitness tracker you can use online or as an app for your iPhone or Android device. You get points by entering your activity, but you can also connect other fitness tracker apps and gadgets to your EveryMove account to get even more points for being active and eating healthy.
Some employers, gyms and health plans support the EveryMove point system, meaning you may be able to get even more points by connecting your profile to them. Points result in rewards like discounts and special offers from health-conscious brands. You can also connect with friends, helping others stay motivated and earning more rewards for particularly active days.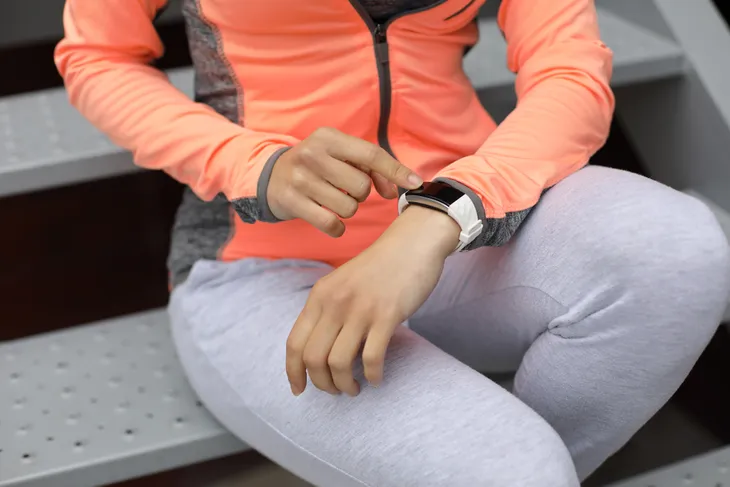 Gear Fit by Samsung
A sophisticated and sleek-looking fitness tracker, the Samsung Gear Fit features a touch screen that's easily activated through tapping the screen or lifting your arm quickly. You can swipe through the different menus, including a timer, step and activity tracker, stopwatch, media files you can play through your phone, and more.
You can set it up to let you know when you've hit your goals and to encourage you, as well as to let you know when you need to step up the pace to reach your goal. These features come in handy to keep you motivated and moving.
Pulse O2 by Withings
The Pulse O2 tracks several things about your health and exercise, including your steps, sleep, heart rate and calories burned. It also tracks your blood oxygen level, something unique and new to fitness tracker gadgets. The touch screen light up display shows your metrics for the day and allows you to put the device in sleep mode, and your heart rate and blood oxygen level are calculated by placing your finger on the sensor on the back of the device.
The Health Mate app that comes with it shows how you can be healthier based on recommended weekly exercise, and the reminders feature motivates you to get moving and to eat healthy.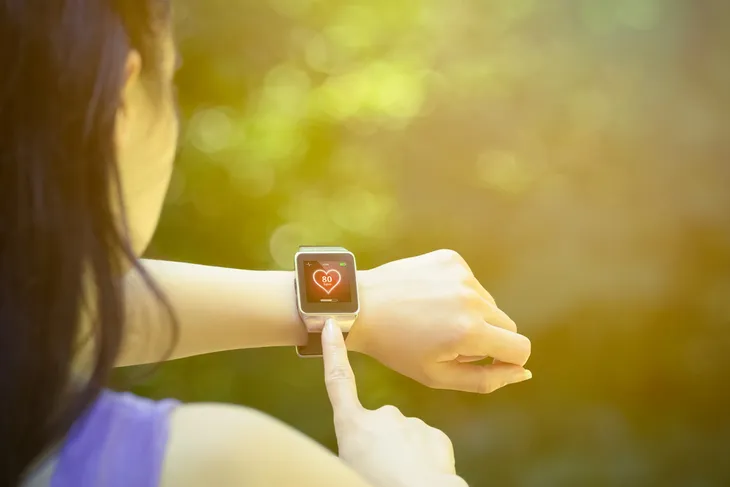 Polar Loop
The Polar Loop fitness tracker is a wristband gadget that tracks your activity and sleep quality, 24/7. It counts your steps and calories, resting and sitting time, daily activities (at low, medium and high intensities), and hours slept and restful versus restless sleep. You can set daily activity goals and check your progress throughout the day on your bracelet or mobile phone.
The Polar Flow web service is like a calendar that allows you to follow your achievements and figure out what daily habits may be preventing you from reaching your goals. There's a feature that reminds you when you've been still for too long, which is a great reminder to keep moving and provides extra motivation to be active.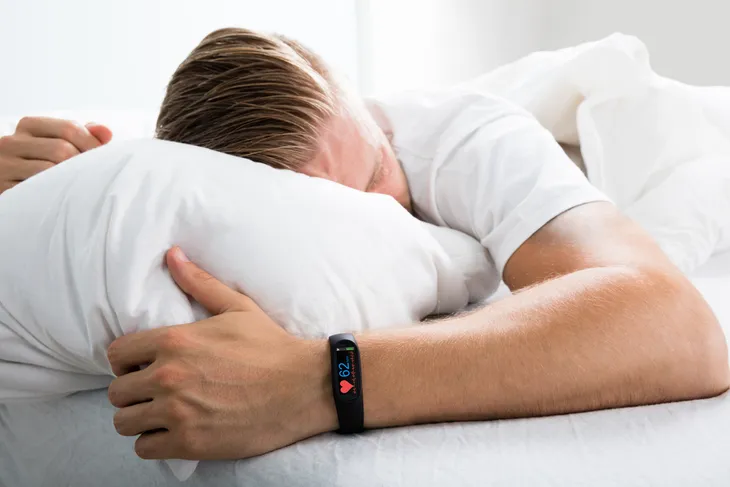 Shine by Misfit
The Shine is a super-light, coin-sized fitness tracker. The 12 LED lights gives you a glance of where you are in your fitness goals for the day–the more lights lit up, the closer you are to your goals. The Shine records your physical activity and sleep, and can automatically detect the difference between steps (walking or running), swimming and cycling, to get a more accurate read on your activity level. And it's waterproof, so you can wear it during water activities and leave it on in the shower, ensuring you get complete daily activity stats.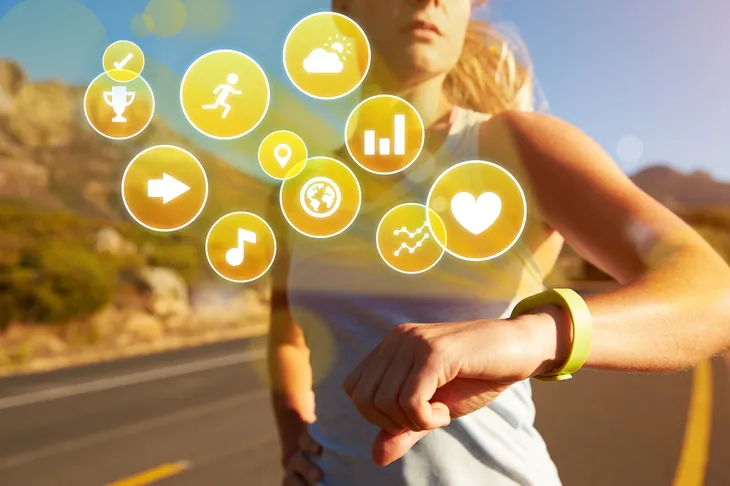 Vívofit by Garmin
The Garmin Vívofit is a fitness tracker gadget that you wear on your wrist to track your steps, distance, calories burned and sleep activity. A red bar on the gadget lets you know when you've been inactive for too long, and you can set daily activity goals and view your progress on a daily, weekly and monthly basis.
As an added bonus, it assigns you personalized daily goals based on your activity level. As you reach these milestones, it will increase your daily goals, giving you the nudge you need to push yourself to be more active. You can also join online challenges and get a competition going with friends to achieve badges.
Nike+ FuelBand SE
The Nike+ FuelBand SE monitors all of your activity and turns it into a fuel level. The LED display gives you a snapshot of that day's data, including fuel, calories burned, steps and the number of hours you were active for 5 or more consecutive minutes.
You can record special activities to upload to your account or app that you can name and add notes about, like the intensity level of the workout. Move reminders keep you motivated to move every hour, challenges with friends add a competitive aspect, and milestones and trophies recognize your hard work.