Spring is just around the corner, which means it's prime time to lighten up your meals with these health-conscious dinners that weigh in under 500 calories…
1. Turkey Ginger Lettuce Wraps
285 calories
Based on a popular Asian dim sum (or appetizer), you can rediscover fun with food when you roll up a few of these delicious turkey ginger lettuce wraps. Make them a meal by serving with brown rice or a bean salad on the side.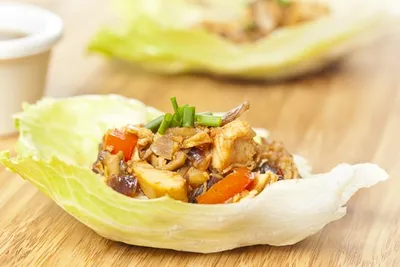 Recipe:
Bring water to a boil in a small saucepan. Add 1/2 cup instant brown rice, reduce heat to low, cover, and simmer for 5 minutes.
Heat 2 teaspoons sesame oil in a large nonstick skillet.
Cook 1 pound 93%-lean ground turkey, 1/2 cup chopped fresh herbs (your choice of cilantro, basil, mint) and 1 tablespoon minced fresh ginger for 6 minutes.
Stir in the cooked rice, 1 diced bell pepper, 1 shredded carrot, 1 can water chestnuts, ½ cup low sodium chicken broth, 2 tablespoons hoisin sauce, five-spice powder and ½ teaspoon salt; cook 1 minute.
To serve, separate lettuce leaves from 2 Boston head lettuce among plates, spoon in turkey mixture, and roll into wraps.
2. Asian Veggie Stir Fry
175 calories
This recipe is just a vegetarian take on the traditional Asian stir-fry. Plus, if you shred your vegetables, you'll drastically cut down on the cooking time. Make it a full 500-calorie meal by serving over brown rice or spooning the mixture into warm whole-wheat tortillas and adding extra hot sauce or hoisin sauce to taste.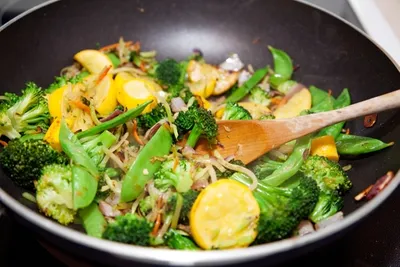 Recipe:
Heat 1 teaspoon sesame oil in a large nonstick skillet over medium heat.
Beat and scramble 4 large eggs; cook, remove and set aside.
Add remaining 2 teaspoons of sesame oil, 2 teaspoons minced ginger, and 2 chopped cloves of garlic and cook until soft.
Add 1 12-ounce bag of broccoli slaw, 2 cups of bean sprouts, 2 sliced scallions, 1 tablespoon of soy sauce, and 1 tablespoon of rice vinegar, stir and cook covered until tender.
Add the eggs and 2 tablespoons of hoisin sauce, cook while stirring to coat vegetables.
Serve over brown rice or warm whole wheat tortillas.
3. Red Wine Chicken & Couscous
480 calories
Red wine and rosemary make a classy reduction for lean chicken breast—especially when served with sautéed spinach and served over a nicely spiced couscous.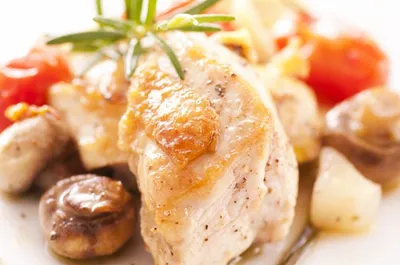 Recipe:
Place 4 lean, boneless chicken breasts in a shallow dish, and bake almost to brown.
Transfer chicken to a plate, cover to keep warm.
Pour ¾ cups of red wine and 2 sliced shallots into a skillet, cook until slightly reduced and shallots are transparent.
Stir in ¼ teaspoon of coarse black pepper and 2 teaspoons of fresh rosemary.
Add chicken and spoon mixture over until cooked and coated.
Steam 4 handfuls of baby spinach over top of chicken for 2 minutes.
Serve over whole grain couscous.
4. Jerk Chicken Stuffed Pitas
350 calories
The ideal meal when you're feeling like you want to eat a little more light, these chicken stuffed pitas are made with lean chicken breast and rubbed with jerk spices for a zesty finish! Jerk is a style of cooking native to Jamaica, in which meat is dry-rubbed or wet marinated with a very hot and fragrant spice mix.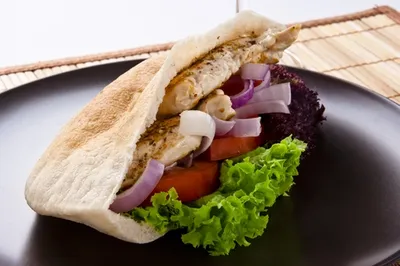 Recipe:
Rub 1 pound of boneless, skinless chicken breasts with a mixture of jerk spices—a store-bought mixture of pimento, Scotch bonnet peppers, cloves, cinnamon, scallions, nutmeg, thyme, garlic, and salt).
Grill or barbecue chicken on medium heat until cooked all the way through the center.
Transfer chicken to a clean cutting board, slice into thin strips, and set aside.
Warm and split open 4 large whole wheat warm pitas.
Stuff with chicken, lettuce, tomato, onion, and a bit of plain yogurt to cut the heat (if desired).
5. Beef Chili
310 calories
Enjoy a classic comfort dish with this version of a slow-cooked chili that you can simmer all day and serve on any weeknight. Make it a filling meal by sprinkling with your choice of low fat cheese and serving over brown rice or quinoa.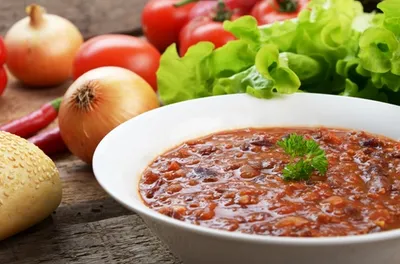 Recipe:
Cook 1 pound of lean ground beef, 1 chopped bell pepper and chopped yellow onion in a large saucepan over medium heat until the meat is browned
Stir in 4 cloves garlic, 1 tablespoon chili powder, 2 teaspoons cumin and ¼ teaspoon cayenne.
Add 1 large jar of your choice of salsa (mild, medium, or hot) and 1/4 cup of water; cover and simmer until vegetables are tender.
Stir in 1 can of rinsed kidney beans and cook until hot.
Serve over brown rice and sprinkle with cheese.
6. Spicy Jalapeño Shrimp
250 calories
This zesty, spicy shrimp dish gets its edge from chopped jalapeños, fragrant tomatoes, zippy chili spice, and fresh squeezed lime. You can serve it over brown rice for a filling meal and even swap the shellfish for fish or chicken if there's an allergy in the family.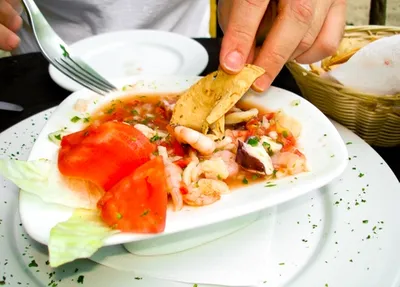 Recipe:
Get 1 lime and cut it into 4 wedges
Heat 2 teaspoons of canola oil in a large nonstick skillet over medium heat.
Add 1 bay leaf, 1 sliced red onion, 2 minced jalapeño peppers, and 2 cloves of sliced garlic, cook until tender.
Stir in 1 pound shrimp (or your choice of meat), cover and simmer until cooked through.
Fold in 2 chopped tomatoes, 2 teaspoons chili powder, and ½ cup sweet red pepper.
Remove the bay leaf and simmer on low until peppers are cooked.
Squeeze with lime and serve over brown rice.
7. Lemon Dill Salmon
315 calories
Lemon juice meets fresh dill spice to give this salmon a subtle yet zesty flavor that keeps the fish moist and flaky. Serve over wild rice with the steamed assorted vegetables of your choice.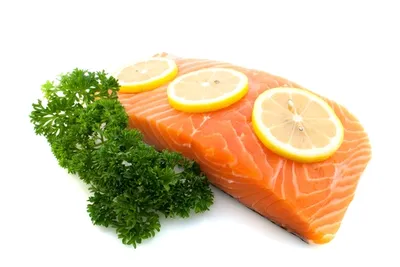 Recipe:
Generously coat a large nonstick skillet with low calorie cooking spray and sear 1 pound of skinned salmon fillet over medium heat.
Sprinkle salmon with 2 tablespoons of fresh lemon juice and ¼ teaspoon of fresh dill weed.
Pan sear pan until browned and flaky in the middle when pierced with a fork—usually a few minutes a side will do the trick.
Remove fish from the heat and lie on a bed of wild rice and serve with steamed veggies (i.e., I often use asparagus or zucchini).
8. Chicken Greek Salad
350 calories
Chicken makes turn this salad into a dish you can eat as a meal! Greek-inspired with the tastes of the Mediterranean, this salad features plenty of fresh veggies, leftover chicken breasts, zesty black olives, and a touch of salty low fat Greek feta. Serve with warm whole wheat pita bread and hummus to make it even more satisfying.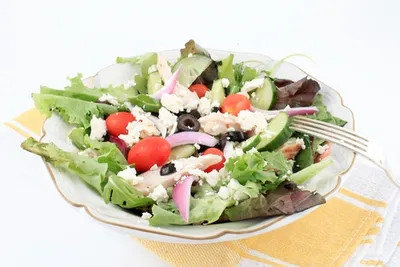 Recipe:
Whisk 1/3 cup of red-wine vinegar, 2 tablespoons extra virgin olive oil, 1 tablespoon chopped oregano, 1 teaspoon garlic powder, a pinch of salt and pepper into a large mixing bowl and set dressing aside.
Add 6 cups of shredded Romaine lettuce, 1 cups cooked chicken breast, 2 medium diced tomatoes, 1 medium diced cucumber, ½ cup diced red onion, ½ cups pitted black olives, and ½ cup crumbled low fat feta.
Toss salad to coat with dressing.
Serve with heated pita and hummus.
9. Easy Pork Tenderloin Medallions
270 calories
Grilled nice on the outside and succulent on the inside, these virtually no-fat pork tenderloin medallions make for a delicious, lean, and stylish entree. Make them into a truly satisfying meal when you serve them with a few slices of grilled eggplant and brown rice with soy sauce on the side.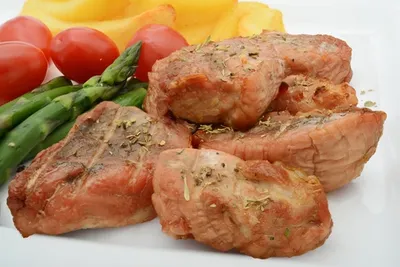 Recipe:
1 1/2 pounds pork tenderloin, trimmed of fat and cut into 1-inch-thick medallions
Preheat your grill or barbeque and cook pork medallions on medium until cooked through—should only take 3 minutes per side.
Grill a few slices of eggplant coated with a bit of olive oil on the top rack of your barbecue.
Plate with fluffy brown rice and add soy sauce to taste.
10. Black Bean & Portobello Quesadillas
385 calories
If you're itching for some pub grub, this black bean and mushroom quesadilla will do the trick—without the excess fat and calories. Make it real faux pub fare by teaming it with a side of vinegar coleslaw and a big pickle spear!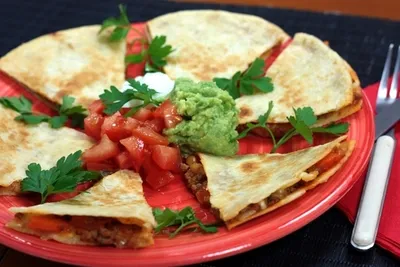 Recipe:
Combine ½ cup smoky barbecue sauce, 1 tablespoon tomato paste, 1 tablespoon red wine vinegar in a small mixing bowl.
Heat 1 tablespoon olive oil and heat in a skillet over medium.
Add 5 smaller portabella mushrooms (just caps) and 1 can of rinsed black beans, cook until tender.
Line up 4 whole wheat tortillas on a clean counter top.
Sprinkle 3 tablespoons of shredded, low fat cheese of your choice, and spoon 1/2 cup of mushroom-bean filling on top.
Fold tortillas in half, pressing flat, and heat each one in a clean skillet until golden on both sides.
Serve with salsa and low fat plain yogurt.
Looking for other articles for healthy eating? Check these out: