Winter isn't just a shock to nature—your mind and body are also greatly affected by the shift in weather and shorter days, making the change difficult to adjust to. It's common to experience a variety of side effects, from winter blues and trouble sleeping to achy muscles and joints and rough, dry skin. Unlike animals that grow thicker fur and hibernate for a good portion of the season, we unlucky humans must continue to work and handle our regular responsibilities instead of sleeping all day and keeping warm in the comfort of our own homes.
Fortunately, there are ways to help our bodies adjust, manage, and even thrive during cooler—or downright freezing—weather and snow. Here are 10 healthful ways to ease the transition into winter…
Stay Hydrated
When winter hits, too many of us stop drinking the amount of water we should be, causing stress on our bodies that can make it difficult to adjust to winter. A glass of cold water is refreshing in the heat of summer, but you probably feel very differently about it during the winter months. And just because the heat is gone doesn't mean your body needs less water. If you often develop cracked and chapped lips, and dry skin all over your body during the cooler and cold months, dehydration may be contributing to this. Thankfully, there's a very easy way to lessen the struggle your body goes through by ensuring you stay hydrated.
Drinking water is an obvious solution, and a good one at that. But getting your recommended intake of water (about 8 individual 8 ounce glasses per day is the general consensus) isn't the only way. Loading up on fruits and vegetables can help because they contain a lot of water. You can also drink tea and have soups for lunch or dinner to increase your water intake. Don't dry out this winter and put unnecessary stress on your body—staying hydrated is an easy but effective way to ease your body into winter.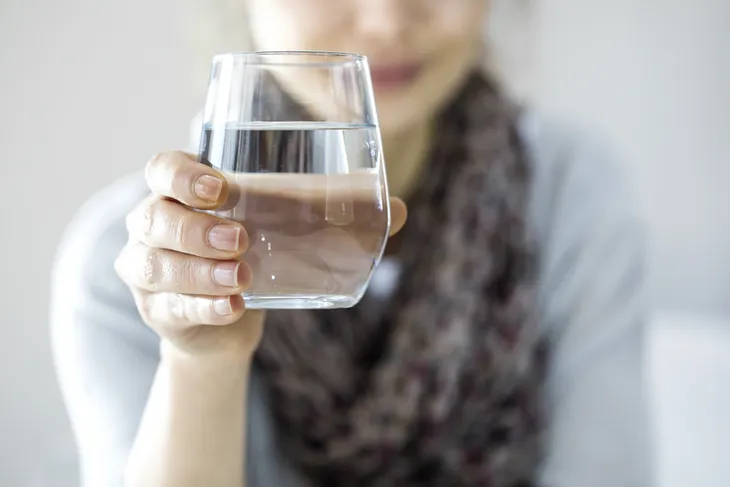 Moisturize Regularly and Often
Dry, rough, and cracked skin anywhere on your body is uncomfortable and sometimes painful, but, sadly, dry winter skin common during the colder seasons—especially if you live somewhere that gets snow and regularly freezing temperatures. Dryness happens a lot in the areas of the face and hands because of exposure to the cold temperatures. But people also get dry skin on their legs, torso, and arms, so it's important to moisturize regularly and often to help reduce the discomfort.
While bundling up can help, people who limit skin exposure to cold temperatures by wearing winter jackets, mitts, scarves, gloves, and boots can still experience dryness. Why? The weather isn't the only culprit that contributes to this issue. In fact, the dry air from central heating can also zap moisture from skin and prevent cracks from healing. To help address this, moisturize throughout the day, and as often as possible after washing your hands. Keep some unscented lotion at your desk or workspace, and don't be afraid of using it graciously and often.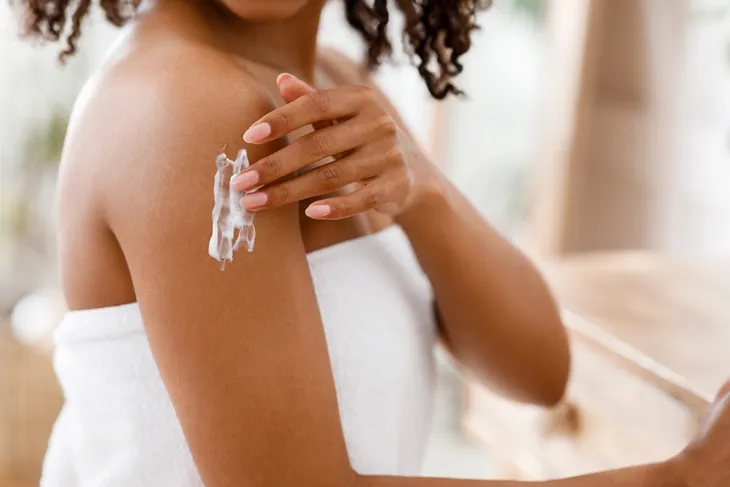 Avoid and Beat the Winter Blues
The winter blues, formally known as Seasonal Affective Disorder (SAD), is a medically-recognized form of depression that typically comes on when the weather gets colder and days get shorter. With the winter blues starting as early as fall for some, it can be difficult to deal with the depression effectively. Since there's no way for us to control the weather, if you're susceptible to or have previously experienced SAD, you know that it can vary in severity and affects all areas of your life.
There are several ways to decrease your chances of developing and reducing the impact of winter blues— for instance, get outside to soak up the sun with your kids or plan outdoor activities with friends, exercise and socialize regularly, consider getting a light box, let as much natural light into your house as possible, and see your doctor if you're feeling depressed and lethargic. Even if you've never previously had SAD, follow some of these tips anyway. Keep in mind that you can develop seasonal depression at any time. Even if you suffer a mild form of the winter blues, these tips are still effective to help you enjoy the winter months and ease your body into winter.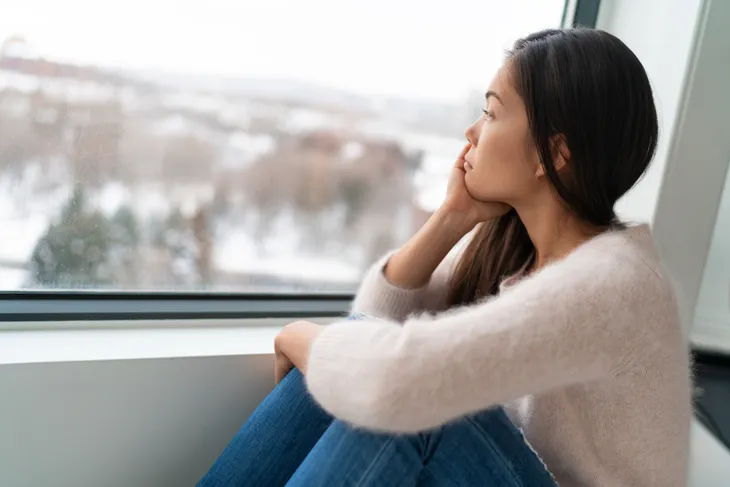 Exercise Regularly
It might be obvious to some, but exercising regularly deserves a spot on this list because it will help you deal with winter in a healthy way and keep you active during months when many people go into hibernation mode. By exercising regularly, you'll greatly reduce the often shocking impact of the temperature drop on your body. You'll also greatly improve your mood and energy, and prevent or reduce your winter-associated blues. Exercising regularly also strengthens your immune system. It may be difficult to stick to regular exercise, but the benefits are too great to ignore.
For those who have trouble motivating themselves to head to the gym, go outside for a walk or run, or even workout in their own home, put the onus on yourself by signing up for a class. A regular weekly commitment will help motivate you to follow through. And why not sign up for something new? The change might give you that extra boost to keep to a regular workout schedule. Or, if you think exercising with friends will be good motivation, set a schedule to exercise with a buddy or two. By making exercise a social and healthful obligation, you're more likely to stick to it.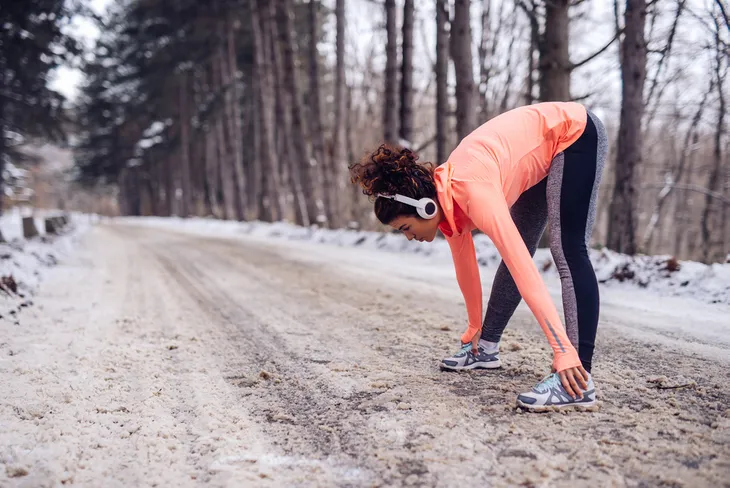 Get Your Vitamins
There are a lot of vitamins your body needs to function properly and to keep your immune system strong. Winter is a terrible time for catching and spreading viruses, with people remaining indoors most of the time due to cold weather. The best way to combat illness is to ensure your immune system has the support it needs to stay strong and fight off germs. Aside from exercising and eating healthy, taking vitamins could help support your body through winter.
With the shorter days and lack of sunshine, it's easy to become deficient in vitamin D. Often the sun is only out during work hours when you aren't able to go outside, leaving your body at a loss for vitamin D it naturally gets from the sun. Talk to your doctor about taking a vitamin supplement if you can't get outside much during the winter months. It will help your immune system stay strong and keep your mood positive.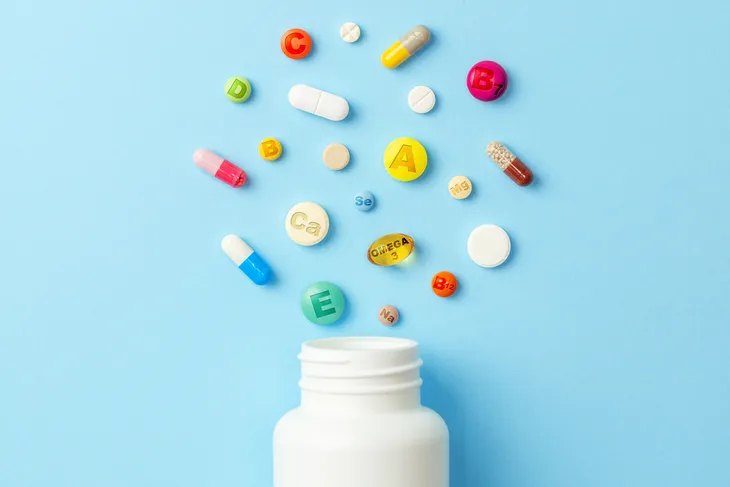 Get a Good Sleep
When you're tired, you might experience muscle weakness, blurry vision, added stress, and other unpleasant symptoms. In the winter, you need energy to help your body deal with transitioning sleep cycles. It's not easy to properly adjust to cold weather and lack of sun, and you need to get adequate sleep to remain energetic, and emotionally and physically healthy enough to make it through the most difficult winter days. Your sleep patterns affect sleep quality to sleep duration, which means getting a good night's sleep is integral to ease the winter transition.
According to physicians at Harvard Medical School's Sleep Medicine Division, reduced sunlight, colder air, rich diet and holiday indulgences during winter all greatly impact the human sleep cycle. For instance, numerous scientific studies prove that the body associates light with sleep, which means when the sun sets before you leave work, the body no doubt becomes confused and sleepy. This is because light directly impacts the pituitary gland, which emits melatonin (a hormone that regulates sleep and wake cycles), according to researchers at Bastyr University's School of Naturopathic Medicine. To encourage a restful sleep, unplug from electronic devices early in the evening, and take the time to relax and unwind as much as possible to encourage the required 7 to 8 hours of sleep each night.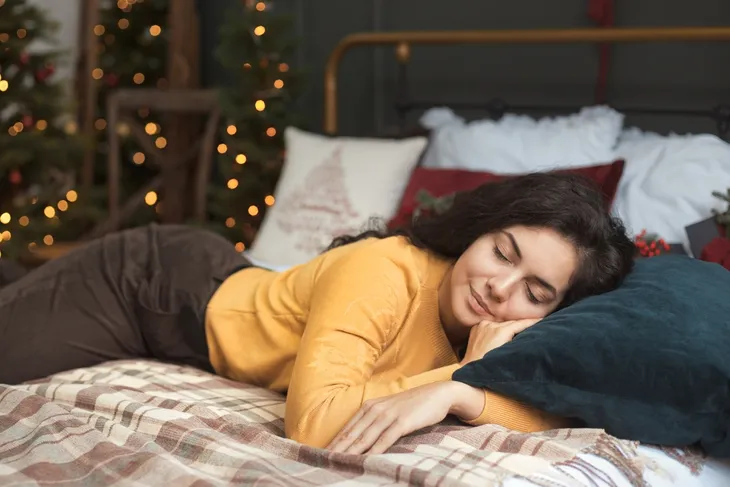 Bundle Up and Enjoy the Outdoors
Not everyone likes being outside when it's cold, but on days when the temperature isn't dangerously low, you can keep warm by bundling up. Doing something active outdoors (i.e., walking) will keep your blood pumping and encourage warmth. By embracing the winter weather instead of locking yourself indoors, your body will better adjust and cope with the weather changes. Plus, sunshine goes a long way in improving mood and energy. So get outside in the fresh snow to make snow angels and snowmen with your children, or go on a hike to explore the winter wonderland with family or friends. The added exercise will boost your mood and help healthy weight maintenance.
Downhill and cross-country skiing are also perfect in areas that get a lot of snow. Likewise, skating and tobogganing will help you embrace the weather. Plus, being active outside is an effective distraction from the weather. Just be sure you dress in the appropriate clothing to be outside for a few hours. Frostbite can occur within minutes in extremely cold temperatures, and no one enjoys being outside when they're shivering the whole time.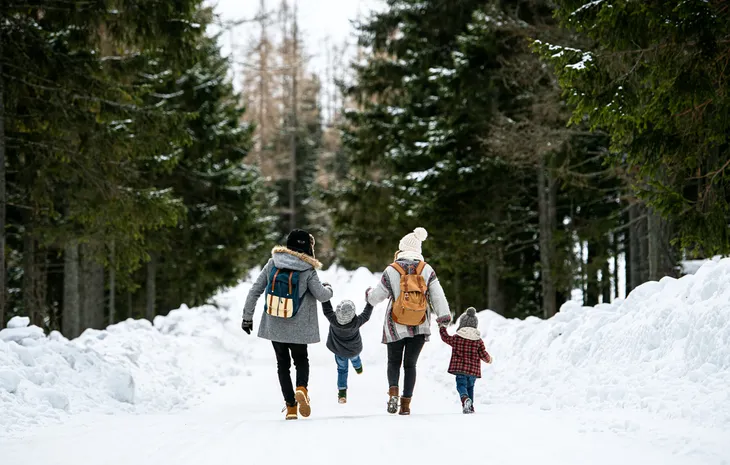 Eat Healthy
Eating healthy might seem like a no-brainer, but colder weather can cause poor eating habits. Combined with rich holiday feasts, Christmas baking, edible gifts, and the craving for warm comfort food, it's inevitable for many to veer off track, particularly if you struggle with eating healthy. Don't worry, with commitment and motivation you can eat well during winter, enjoying the odd indulgence while giving your body the healthy fuel for the season.
When gathering for big, family meals, load up on vegetables, lean proteins, and skip seconds. This can be hard to do, but setting limits before get-togethers (and even eating a healthful snack) will help prevent overeating. Your body might crave refined sugar and processed carbs, but binge eating will cause weight gain, blood pressure imbalances, energy crashes, and digestive upset. So allow indulgences in moderation while keeping portion sizes in mind.
Socialize Often
Aside from the potential to develop Seasonal Affective Disorder (SAD), the long winter months can take their toll on just about everyone. Extremely cold temperatures keep people inside, reducing social interactions and leaving you emotionally unfulfilled. Easing your body into winter includes addressing your emotional health, which can be boosted via regular social interaction with family and friends. Ignoring the need to socialize and bond with others can affect your personal relationships, as well as your energy levels, self-esteem, physical wellbeing, and mood.
To encourage positive mental health during winter, schedule and attend regular social events. Visits with friends and family don't need to be a big production—simply meeting for coffee, going to a movie, having people over for dinner, or doing something outdoors when weather permits can keep you active and positive during the winter months.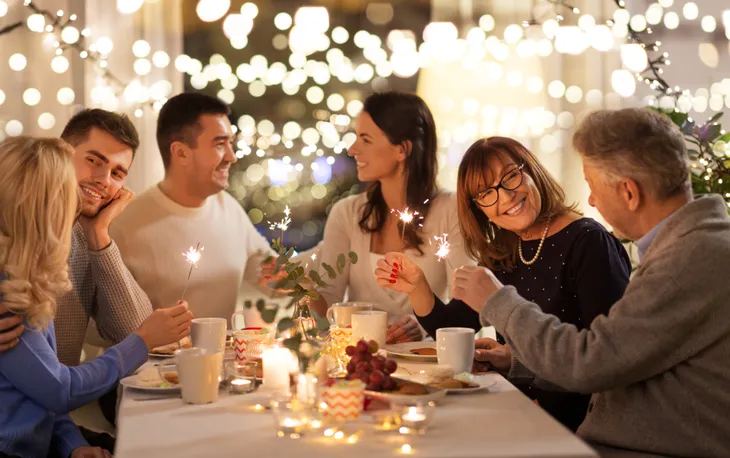 Prep Your Home
Prepping your home for the cold temperatures is often overlooked during the holiday hustle and bustle. However, many areas of North America get snow and freezing temperatures that require winter maintenance—including weather-proofing, furnace maintenance, and winterization to keep the cold and chills outside.
Making a list of easy winterization to-dos—such as sealing old windows with weather-proof plastic, cleaning storm drains and gutters, insulting the attic (especially older homes), and outfitting bedrooms with flannel sheets and extra comforters can keep your home sweet home warm and cozy. Also, have your furnace checked yearly to ensure proper working order, shut off outdoor water sources to prevent pipes from bursting, have your roof inspected to check for leaks and missing shingles, and block cracks and gaps in doors and windows to prevent winter drafts.